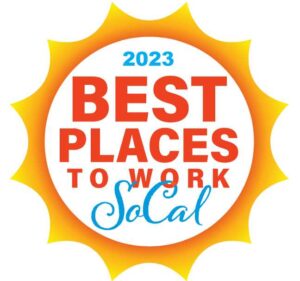 Cerritos, CA, July 19th, 2023 – GST is proud to announce that it has been recognized as back-to-back winner of the Best Places to Work SoCal 2023 list by the Best Companies Group.
Best Companies Group announced the winners of the prestigious Best Places to Work SoCal 2023 list. The honorees, spanning a diverse range of industries, include a list of companies that have set benchmarks in fostering exceptional work environments. The selection process for these winners was comprehensive, relying heavily on detailed employee surveys. Factors such as corporate culture, training and development opportunities, salary and benefits, and overall employee satisfaction played a crucial role in determining the top workplaces in Southern California.
Jaime Raul Zepeda, Executive Vice President of Best Companies Group, commended the high caliber of the selected companies. He remarked, "Each winner on this list has created an extraordinary work environment that attracts, retains, and motivates top talent. The quality of the companies in the 2023 Best Places to Work SoCal list is truly commendable, as they have shown a clear commitment to their employees' satisfaction and development."
"Being named on the Best Places to Work list reflects not only GST's dedication to our team's satisfaction and well-being but also the positive culture, effective leadership, and opportunities for growth that GST provides," commented Dennis Wang, GST COO. "I thank the Best Companies Group for this outstanding accolade and recognition."
To learn more about the program and the winners list for this year's program: https://bestcompaniesgroup.com/best-places-to-work-southern-california/
About Best Companies Group:
Best Companies Group is an independent research firm that specializes in identifying and recognizing the best places to work all over the world.

About GST
GST helps clients stay ahead of the technology curve with a wealth of advanced IT and AV solutions. Our company is highly versatile, offering a broad array of end-to-end technology solutions and services including managed services, worldwide logistics, systems integration, deployment and supply chain, and audiovisual. With more than 30 years of experience, GST's adept team of skilled technology professionals has the expertise to handle comprehensive projects and services. GST's global expertise, customized solutions, commitment to customer care, and responsive execution inspire confidence and serve to create successful and lasting client relationships. For more information, please visit gstinc.com