GST Quality Management System is ISO9001:2015 Certified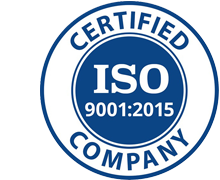 A quality management system (QMS) is a set of policies, processes, and procedures required for planning and execution (production/development/service) in the core business area of an organization.
GST is ISO9001:2015 certified and ensures the quality of service and manages the relationship through our project management tools and quality management system. Our multiple certifications with IT & AV vendors allow us to work closely with you to provide the latest in technology and product evaluation. We have multiple processes and programs in place to ensure consistent delivery of services. Regular project team meetings are held to identify, review and report on all tasks including status reports and challenges. These process review meetings keep all parties informed of activities and ensure the established framework is successful. This formal quality guideline allows us to interface between all our departments and partner relationships to ensure strategic quality control methods.
Customs-Trade Partnership Against Terrorism (C-TPAT) Certification
Sets standards for cargo security in supply chain
Partnership with US Customs and Border Protection
GST's Secure Supply Chain best practices include
Counterfeit Prevention
Tamper Prevention
Traceability and Tracking
Member of GIDEP
Member of Directorate of Defense Trade Controls
Controlled Unclassified Information
GST is NIST 800-171 compliant