PROJECT SUMMARY:
Palos Verdes Library District consists of three libraries, which includes the Malaga Cove Library, that serves the nearly 70,000 residents living on the Palos Verdes Peninsula.
The historic Malaga Cove Library upgraded its current AV system with devices and tech solutions that would fulfill the needs of ensuring the multipurpose room would be able to seamlessly transition into the needs of any events that were being held in that space.
Systems and Equipment Used
Draper projection screen with viewable area 87"h x 140" w
Epson lamp-free projector with 8000 lumens and WUXGA resolution
Extron IN1808 4K switcher
Extron white speakers with an 8" driver
Extron 7" touchscreen controller
Logitech Bluetooth audio receiver
GST services also included the additional installation and upgrade to the outdoor AV system. These involved:
Audio amplifiers
Bluetooth receiver
Modifications to existing outdoor control system
Outdoor rock style speakers
The GST solution enabled Malaga Cove Library to have greater control of sound and volume in the garden to accommodate event needs.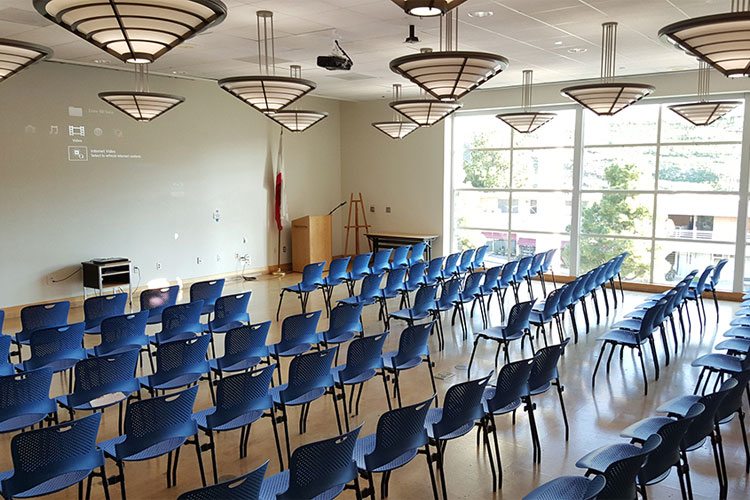 QUICK FACTS
ORGANIZATION SIZE:
Non-profit Organization
1000+ employees
INDUSTRY:
Public Service, Government
VENDORS INVOLVED:
Extron, Logitech, Chief
CHALLENGE:
The initial discussions with the Palos Verdes Library District began with the proposal to upgrade the AV system for the Art Gallery located at the Malaga Cove Library. The upgrades needed to be capable to handle the diverse range of events and activities often held in this multipurpose space.