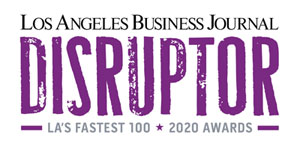 Cerritos, CA – November 9, 2020  –Los Angeles Business Journal has awarded Golden Star Technology (GST) of California the publication's 2020 Disruptors Social Responsibility Award.
The award is part of Los Angeles Business Journal's Disruptor Awards: LA's 100 Fastest Growing Companies that honored a special group of Industry Disruptors within these 100 companies. GST has been named the Los Angeles Business Journal's 2020 Disruptors Social Responsibility Award
GST's commitment to give back to the communities it serves is critical to empowering its people, who in turn empower GST's business. At GST, the entire team believes in putting people first. Some of the charitable organizations the company supports include American Red Cross; Boys & Girls Clubs; Ronald McDonald House; and Susan G. Komen for the Cure.
GST is also committed to encouraging the development of a diverse workplace, recruiting and retaining people from all sorts of backgrounds. One of GST's greatest strengths is the diversity within the company, providing a wide range of creativity, viewpoints, and inclusivity. GST has and will continue to nurture a company culture that celebrates and respects the diversity that exists within the organization. GST is also dedicated to ensuring that the company has a sustainable effect on the environment.
About GST
GST helps clients stay ahead of the technology curve with a wealth of advanced IT and AV solutions. Our company is highly versatile, offering a broad array of end-to-end technology solutions and services including managed services, worldwide logistics, systems integration, deployment and supply chain, and audiovisual. With more than 30 years of experience, GST's adept team of skilled technology professionals has the expertise to handle comprehensive projects and services. GST's global expertise, customized solutions, commitment to customer care, and responsive execution inspire confidence and serve to create successful and lasting client relationships. For more information, please visit www.gstinc.com.